Dragon Seven
Dragon Seven is another entertaining slot game offered by PlayRiverslots. The ingame experience that the gamer has while playing this online game is simply phenomenal. With high-end graphics and an exciting theme, this game is definitely one to try.
The games are in  HD quality and boast features that gamers can look forward to. Dragon Seven is based on an Asian theme that offers an immersive experience that is second to none. You will come across traditional Asian symbols, math expressions such as Pi and Sigma, and a lot more. The fun does not just end here, this game by River Sweepstakes is a café system that is also cloud-based.
How to play the game
Dragon Seven is relatively simple to play and you don't even need to read complicated instructions. It is pretty easy to play the game if you understand the way it works. Once the shuffling begins, you simply click the button, and if you are lucky,  you'll stand a chance to earn bonuses or win money. So, there are no stringent rules, which makes the game furthermore entertaining.
Game Design & Structure
Dragon Seven game design has pretty simple symbols. Some gamers look for vibrant and different symbols when playing an online video slot; however, even if the pictures are not so different in this one, players remain hooked to the game due to the high-end graphics used. The graphics are what make the game attractive and vibrant to the player. Even the colors are bright and captivating, so you are more likely to spend hours playing it.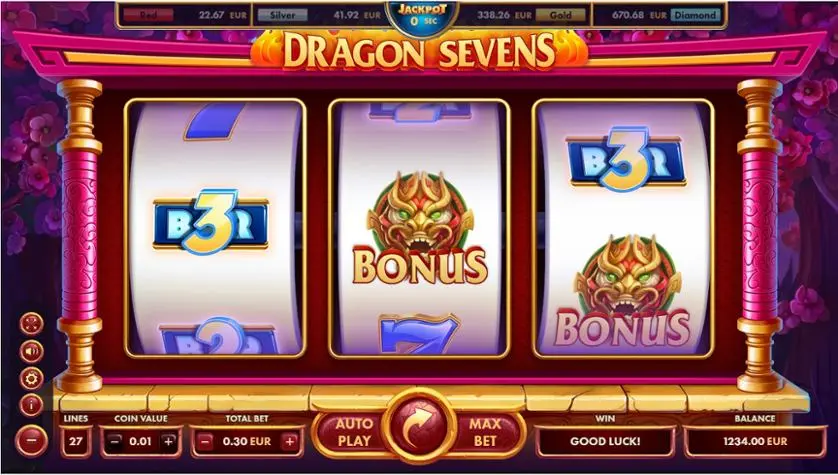 Just like the game design, even the construction of Dragon Seven is easy to understand. Also, a new player will play like a pro if he or she starts playing this game. Why do you think it happens? When the structure is straightforward and easy to understand, the player doesn't have to spend time deciphering the game. Besides, a simple structure is the path to a more win rate. That is why even inexperienced players are successfully playing this online gambling slot. The structure of the game is easy to understand and handle. You don't have to spend more on it.
Spins
Dragon Seven is a customized game because the player can play in the way they want to. The player has the flexibility to select volatility free games, players, multiplayer, and spinning reels. In case you want to use a bonus in case of a free spin, you have the option to do the same.
Features
The prominent features are HD quality, automatic updates, cloud-based, compatible with other devices.
Free monthly updates keep the gameplay in top-notch quality.
Being compatible with any device will allow you to enjoy the game, whether you're at home with your laptop or trying to kill some time in heavy traffic with your phone.
The best part is the ease with which player gets to play it, yet they get to enjoy the wonderful graphics.
You can choose the number of spins, according to the amount of money. Such features give freedom to the player to choose, which makes the game even more interesting.
Bonuses
There are a lot of rewards in this slot game. You will get the chance to increase your win rate with bonuses. You don't have to do anything much to get the gifts. Instead, you have to play wisely, and then you will receive rewards. Usually, it is easy to get the bonuses in this game. Once you receive gifts, your level will automatically become better.
If you are interested in a natural gaming structure, you will fall in love with Dragon Seven. You don't have to do anything much to play this game because it is straightforward. If you understand the rules and methods to play, you can make a lot of money along with a high rate of wins. It is going to be a fantastic experience.