Thunder Strike
Offered by Play River Slot, Thunder Strike is a fantastic slot game that has more than sixteen thousand ways to win. Winning strategies, theme, design, bonuses, and such features of the game help players to feel the vibe of real casino games. Let's start by examining the interface of the game.
Interface
The theme of the Thunder Strike captures Norse mythology. Characters in this game are mainly mythic gods. For instance, players will observe Loki, Freya, and Thor in the reels. We assure that players do not get disappointed with the look of the main characters. Just like in this game, movie themes in online casino slots are becoming a new tradition for this industry. Thunder Strike's idea is taken from the Marvel movie: Thor.
Graphics resemble comic book styles in this game. They are bright and colorful. The background of the game features the mystic land of Asgard. High mountains, blue sky, and unusual nature of the Asgard are portrayed realistically in Thunder Strike. As you can see from the name of the game, Thunder Strike, we should expect storms and strike of lightning while playing.
How to Play and Win?
Thunder Strike is operating similarly to the other online video slots. There are five reels and four rows in this game. Each reel is displaying up to seven symbols. You need to press the spin button to start the game. As long as a player maintains a line of matching symbols, he/she collects prizes.
As we mentioned before, in Thunder Strike, there are a total of 15.625 ways to win the game. You can wager from zero point ten cents up to fifty dollars for each spin in this game. After wagering money on the pay lines, you need to press the start button and wait for the reels to spin. If you get three or more matching symbols, this will be considered as a winning combination. The highest prize in the game is a fifty-time multiplier.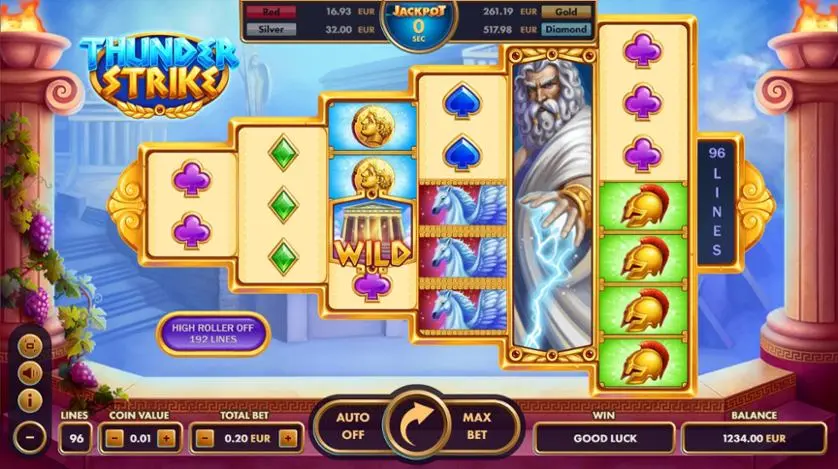 Players get this prize though matching Thor symbols, which are wild ones in the game. Thor's Hammer is a scatter symbol of the game, and it also has a substitution feature. If a player misses one symbol and cannot match the line, he/she can use Thor's Hammer as a substitute for all other symbols. These special symbols will help players to gain huge prizes and also maintain bonuses.
Bonus System
There are several opportunities in this game that can boost your account. For instance, a re-spin feature of Thunder Strike will trigger through the symbol of Thor. With re-spin, players will manage to play their favorite popular slot games once again, without paying a penny. There are multipliers in the game, which lead to high cash backs. Mega Spin feature is activating after multiplier bonus rounds. That bonus feature includes prizes such as free spins and five thousand coins. We are offering you the best slot game that is also very beneficial for your pocket.
Return to Player Rate
Return to player rate is one of the indicators that depict the quality of the online video slots. Thunder Strike has Return to Player Rate of ninety-six points fifty percent. The percentage is higher than average, which makes this slot game even more fabulous.
Volatility
Thunder Strike is a high volatility game. Volatility means the frequency and amount of pay-outs for slot games. There are decent pay-outs in this online casino game, though those wins will come less often because this game is a high volatility game. If you are searching for an exciting slot game that will help you to earn great prizes, we are more than happy to invite you to RiverPlayslot casino to play Thunder Strike.